Return to Headlines
Pulaski Academy and Central School Honors Middle School Students and Educators
End of the year celebrations are in full swing at PACS Middle School.
Middle School students were named as recipients of the Snow Incentive Award during a recent ceremony.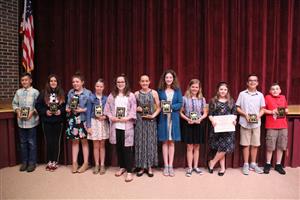 6th grade recipients were Shannon Carnes, Peyton Crandall, Byrdie Denny, Aubrie Dillon, Andrew Lovett, Presli McCarty, Ezra Peter, Danielle Sikora, Anabelle Tolhurst and Jack Wallace.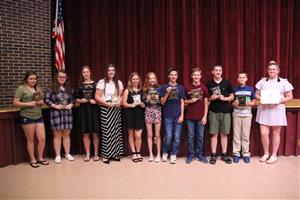 7th grade winners were Leah Bartosek, Marisol Briggs, Zach Coffin, Julia Karkowski, Piper Nelson, Cameron Payne, Connor Payne, Neva Rembowski, Gabrielle Waite and Kalib Weiland.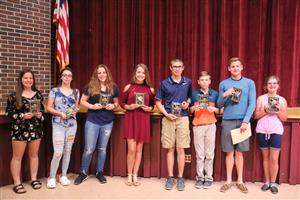 8th grade honorees were Eileen Carnes, Molly Fox, Amanda Glazier, Isabella Grant, Zachary Masuicca, Aaron McConnell, Alexis Peyton, Teigen Reiter and Summer Watson.
Educators were also recognized during a ceremony on the last day of school.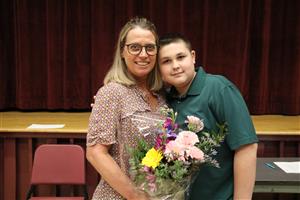 Diane Clark was recognized for being part of the PACS family for 20 years as a teacher's assistant. Clark will be leaving the district at the end of the school year to move closer to family.
"This teacher is just plain awesome. We love his class because you can be competitive while having fun. He is a combination of being serious and entertaining. He does a lot for so many people in so many different ways. He is also a hard worker and he gets things done for PACS." That is one of the nominations that Athletic Director Jeff Shirley received as he was named Educator of the Year, which is voted on by middle school students. One of the student nominations sums up how valued Shirley is to Pulaski Academy: "He makes you do everything with full effort, but he can also take a joke and let you have a good time. He makes his class fun and he has a great way of telling a joke. He has helped the school in so many ways over the years and has spent many long hours here at night and on weekends. He definitely deserves to be recognized for all he has done." Jeff Shirley will be retiring from PACS at the end of the school year.
The Heart of Pulaski award was created this year for an educator that continually goes above and beyond for students in Pulaski. Jill Truax is one of those educators that everyone in Pulaski knows and loves. And the nominations that were read supporting her award show the dedication she brings to the district. "You're a unique, outgoing beautiful human being. Everything you do is for other people and that's what makes you an amazing person ...you make children want to come to school." states one nomination, while another says "You're sweet, loving, and kind - like the mother of Pulaski. You keep everyone happy and always try your hardest to help out and make us smile. Your laughter brightens up everyone's day."
Congratulations to our students and our educators for their hard work and dedication to Pulaski Academy and Central School.