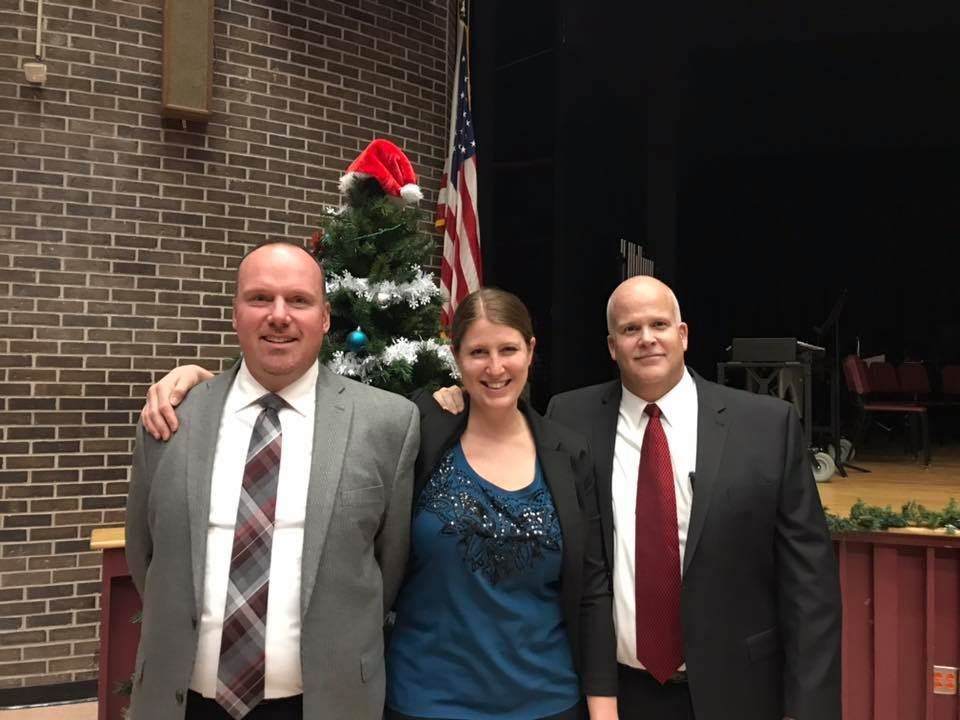 The Arts at PACS
Performing Arts Opportunities
Students at Pulaski have many choices when choosing to perform. We offer Concert Bands, Marching Band, Jazz Band, Small Ensembles, Concert Choirs, Select Choir, Drama Club, All-County ensembles, All-State ensembles and Solo Festival. In addition to scheduled concerts throughout the year, students will also have a number of opportunities to perform in community events, such as "Light Up Pulaski" and the Farmer's Market.

During the 2018-2019 school year, grades six through 12 had 64% of the student population participating in at least one performing group. Our marching band and colorguard had 131 students participate during the 2018-2019 school year.

Performing Arts 2018-19 Highlights
Our music ensembles performed for full auditoriums throughout the school year. Our marching band, colorguard and drumline completed another successful season with performances in locations ranging from Watertown to Sherburne. We had many students participate in All-County, All-State, and NYSSMA Solo Festival. Our Middle School and High School Drama Clubs produced enthusiastic shows that delighted the school and the community alike. As an exciting addition to the music department, we have a piano lab that offers high school students the chance to take a piano class.

Performing Arts 2019-20 Goals
We have many goals for the upcoming 2019-2020 school year. We are looking to expand our piano classes to the middle school and expand on our piano offerings for the high school. We are looking to add a Digital Audio workstation experience in music theory.

During the 2019-2020 school year, we want to add a Senior Showcase for visual and performing arts. We also want to expand our performance locations for students throughout our community, such as the Kallet Theatre and South Park.

Pulaski has always had a high rate of participation in performing arts and we hope to continue to achieve that level of participation. Our goal this year is to expose every sixth grade student to band and chorus in hopes they will want to participate throughout their middle and high school careers.

Visual Arts Opportunities
Students have many possibilities to engage in the arts throughout the year in many different capacities. PACS offers an afterschool Art Club open to all students in grades nine-12. We also offer community service-based projects, school enhancement projects, an annual field trip and there are many extra opportunities to create art outside of the classroom. There are also numerous art shows that students can participate in. There are in-house art shows throughout the academic year, including our annual art show and the end-of-year show where we showcase art that has been created throughout the year. We also have an Artist of the Year show, where we highlight and study a famous artist. Each spring, students have the opportunity to participate in the Oswego County Art Competition and the winter brings the Regional Scholastic Art Competition. Additionally, we have students participate in the NYSSBA Exhibit taking place during the NYSSBA (New York State School Boards Association) Conference, Intermediate Beaver Lake Art Naturally at Beaver Lake Nature Center and the Congressional Exhibit in Albany.

Visual Arts 2018-19 Highlights
Our biggest highlight from 2018-2019 was Nichole Lent winning a national gold medal in the Scholastic Art Competition for her photograph "Spilled Words." She was honored with a trip to New York City where her piece was displayed at Parson's Gallery and has the potential to travel the country throughout the next two years. In addition, Nicole Lent and Izaiah Bosse both received gold medals at the Regional Level of the Scholastic Art Competition.

Visual Arts 2019-20 Goals
We have had great successes in the past and we look forward to growing the PACS art community and continuing that tradition. This year, we hope to display more art in the community and expand on student opportunities for showcasing their work. We are looking to have a combined event that with the performing arts will showcase our seniors. The Visual Arts department is looking to utilize Artsonia as a classroom tool, as well as a public/private online art portfolio for all students. We are also hoping to collaborate with other disciplines throughout the District.