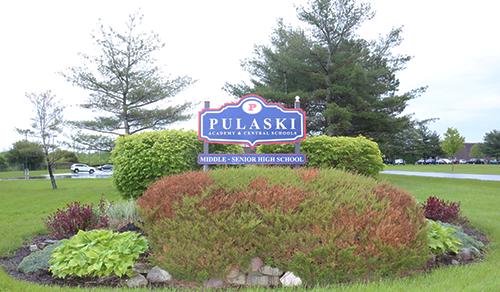 Pulaski Middle-High School Office
The Pulaski School District has a proud tradition of providing the very best opportunities for our students in a safe and supportive environment in order to help grow them into productive and thoughtful citizens. The small size of our community and school allow for the development of genuine relationships between all stakeholders and a shared commitment to common values and goals has helped us maintain our best traditions while also incorporating new strategies and processes in our pursuit of excellence.

Our Middle-High School academic program currently offers more than a dozen college credit-bearing classes through local community colleges and the Advanced Placement program. We additionally have a music and arts program that is recognized at the state and national level. Our athletics program is one of the strongest in the region with recent League and Section 3 team championships, as well as individual championships and honors at the state level.

Outside of the classroom and off the playing fields, a majority of PACS Middle-High School students pursue their individual interests and collaborate with peers by participating in some of our more than twenty extracurricular clubs. Perhaps most importantly, PACS learners exercise their roles as citizens through required community service while many others volunteer to enrich the building within our Student Government and Peer Leader programs.

We are proud of our past achievements and are excited about our future as we continue to grow as individuals and as a learning community.

Go Blue Devils!